Rubber Tee 5 Pack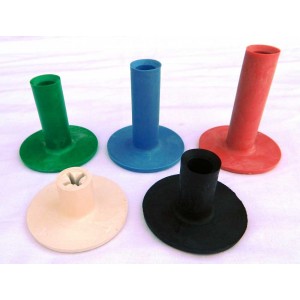 Brand:
CMW
Product Code:
N-99-03
Availability:
In Stock
Price (ex VAT): £3.35

Are you tired of going to the driving range only to find they don't have enough rubber tee's for the height you like to tee off? Well this is the answer; take these with you!
This pack contains 5 Rubber Tees.
1 x X-Large Red Tees (70mm)

1 x Large Blue Tees (60mm)

1 x Medium Green Tees (50mm)

1 x Short Black Tees (35mm)

1 x White Tee Peg Tees
The white rubber tee is very flexible as you use a real tee peg to set your actual tee at your desired height - ideal when you just can't seem to get the right tee height at the range!
Please note: All CMW prices are exclusive of VAT. There is a minimum postage charge for this item of £4.99. Total price of 1 pack delivered including vat is £9.77.